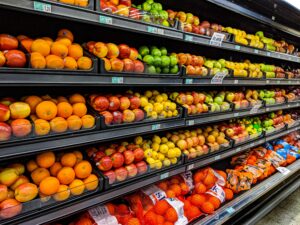 Walking into a grocery store can be overwhelming, with bright lights and loud music, and lots of stuff to buy. It's easy to get wrapped up in the experience and come home with plenty of junk food that you don't need. If you're trying to eat healthy, it's even trickier: what items should you choose? What is this organic label all about? This blog will help you navigate the store like a pro so that you are well informed for your next trip.
How to plan before going
 Planning ahead is the best way to avoid unnecessary purchases while in the grocery store. Here are some tips on how to plan your meals before going to the grocery store:
Never shop hungry.  This prevents impulse purchases.  Eat a small meal or sustainable snack before walking into the halls of food temptation everywhere you look.

Plan out healthy meals for you and your family for the entire week.  This will help you enter the store with a very clear mission about purchases that you are most likely to stick closely to.

Make a list of everything you need and check it twice. If you don't know what's needed for a recipe, look at the recipe for ingredients or call your local market for help.

Organize your shopping list by category so that it's easy to find items when you're in the store. For example, list produce together, meats together, and so on. This will also help you stick with your budget because if you go over budget on one item, you may have to cut back on another item on your list.

Stick with a budget when making purchases at the grocery store. 
How to pick the best items
Choose the bulk of your shopping on items located on the periphery of the grocery store where all of the whole food ingredients are found.  With special attention on the fresh produce section.

Choosing organic produce is best.  This limits your exposure to cancer-causing herbicides and pesticides as well as genetically modified organisms.  This helps you avoid over-saturated ingredient lists of items you can't pronounce.

In the dairy section, read labels and avoid trans fats, GMOs, and high fructose corn syrup. Purchase items that are organic, rBST-free, and grass-fed, if possible.

Avoid processed meats such as lunchmeats with a long list of ingredients. Look for lean meats in their whole state.  Also, try to buy organic and grass-fed/grass-finished where you can afford it.
Lastly, avoid the aisles filled with packaged and processed food products, as much as possible.  As a substitute look for a comparable organic item that is made with more natural ingredients that you can pronounce. Look for whole grains and other easy-to-read labels with just a few ingredients like dried fruits together with nuts as snacks instead of buying something highly processed like Cheetos which does not even contain real cheese!
Areas to avoid while shopping at the grocery store
By avoiding certain areas of the store, you can improve the health of you and your family.  Here are some additional areas to avoid while shopping at the grocery store:
You may think that the middle aisles are where you'll find all of your favorites – chips, cookies, crackers, and soda, but regular consumption of these items are linked to an imbalance in health and wellness.  Avoiding the food on these aisles can reduce your risk of obesity, diabetes, cancer, and arthritis. 
The aroma alone is very alluring in most grocery stores of the high carb, sugar-filled cakes, pies, muffins, and more.  As great as they look, smell, and taste, the processed flour, and sugar is doing more to work against your health goals than support them.  Many baked goods are filled with hydrogenated oils, high fructose corn syrup, processed flours void of fiber, and other unnatural ingredients.  These sub-standard ingredients are what aid in your consumption of one donut turning into 2 or 3 before feeling mildly satisfied.  If you must indulge, look for healthier alternatives that include a shortlist of ingredients that are both whole and natural. 
Resist the temptation by staying focused on your mission of shopping healthy for you and your family. This is the Journey of Wellness guide on how to shop for healthy foods. If you can get into the mindset of shopping from these tips, then you'll find that it's actually quite easy to make healthier choices at the grocery store. Best of luck on your next trip! 
Find out more about our services here, and don't forget to follow us on social media!