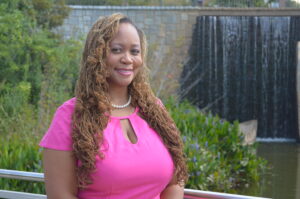 Dr. Tawainna Houston is Board Certified by the North American Board of Naturopathic Examiners, she serves as a Licensed Naturopathic Physician, author, educator, and public speaker. She is the owner of Journey of Wellness Natural Medicine Center where she specializes in providing natural forms of disease management and prevention services to her patients. The lifelong service of Dr. Houston initially appeared in the form of counseling clients through life's challenges and providing spiritual guidance, insight, and pastoral care as a hospital chaplain and human services provider in various non-profits agencies that served marginalized populations.
As life progressed, so did Dr. Houston's desire to serve the whole person begin to evolve. Although the forms of her service have changed over the past couple of decades, one thing remains true and that is Dr. Houston's long-term dedication towards empowering others to improve the conditions of their lives. Being a person gifted for service, Dr. Houston naturally wanted to do more than aid the social, emotional, and spiritual components of the lives of others; it was at that time that her desire to help the "whole person," inclusive of physical ailments began to take root.
Dr. Houston is very passionate about the synergy of the mind, body, and spirit and facilitating the healing of them collectively, which enhances the life experience of her patients. Not only is she passionate about providing service to others she has spent years becoming academically and clinically trained, experienced, and qualified to work with the whole person.
As a published author, Dr. Houston's first book, "Detox-Style," raises awareness on identifying environmental toxins, exposure reduction, and ways to naturally and holistically support the body's built-in detoxification pathways as primary keys to staying healthy while co-existing in a toxic world. She obtained her Doctorate of Naturopathic Medicine from National University of Health Sciences; a Master of Divinity degree with a concentration in Pastoral Care & Counseling from Princeton Theological Seminary along with a Bachelor's of Arts degree in Sociology from Howard University. Dr. Houston has also participated in international medical service trips to Nicaragua and Haiti with organizations such as Natural Doctors International and Naturopaths Without Borders.
Dr. Houston serves on the Adjunct Faculty at National University of Health Sciences and is often invited to speak as an expert guest panelist, as well as lecturer at organizations, medical conferences, churches, schools, and other health-related events. Dr. Houston's has also been featured on a variety of local television and radio programs throughout the years. In her free time, Dr. Houston enjoys listening to poetry and live music